Once you've purchased Atom, you'll be given access to our Support Hub where you can submit and monitor your team's support tickets.
Getting Started
After your production key is activated, you'll receive an email with the subject line "You've been invited to the Atom Finance Support Hub". Click the Get Started link in that email to create an account in the Support Hub.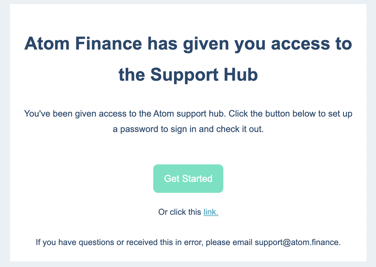 View Ticket History
You have access to your company's ticket history on the Support Hub landing page. Use the search bar to quickly find a specific ticket, or sort by Status to filter on all of your Open tickets.

To add more information to a ticket, click into the ticket and write a response in the 'Reply to' box.
You'll receive an email when your ticket has been updated by a member of the Atom Support team.
Submit a Ticket
You can submit a new ticket by clicking the File a Support Ticket link in the header. This will open the Support Form, where you can enter the details of your request.
Please include as much information as possible in your original ticket so that our team can quickly troubleshoot the issue for you, including affected API endpoints if applicable.